NK Cert Series: Double Adjustment Type
Compatible with M-size loaders and unloaders.
Same reference position for both top and bottom corners. (Can be used upside down.)
Cardguide construction that can handle heated PCBs after reflow enables two types of magazine racks (135°C and 165°C types). Note: These withstand temperatures do not apply to the entire magazine rack. Magazines should not be placed in the oven.
Compatible with standard specifications of SMT equipment manufacturers. Note: Be sure to check your specifications upon ordering.
Unparalleled delivery performance with superior accuracy and quality without distortion.
Equipped with four guide channels.
Options
Spring-type stopper bars
Numbering labels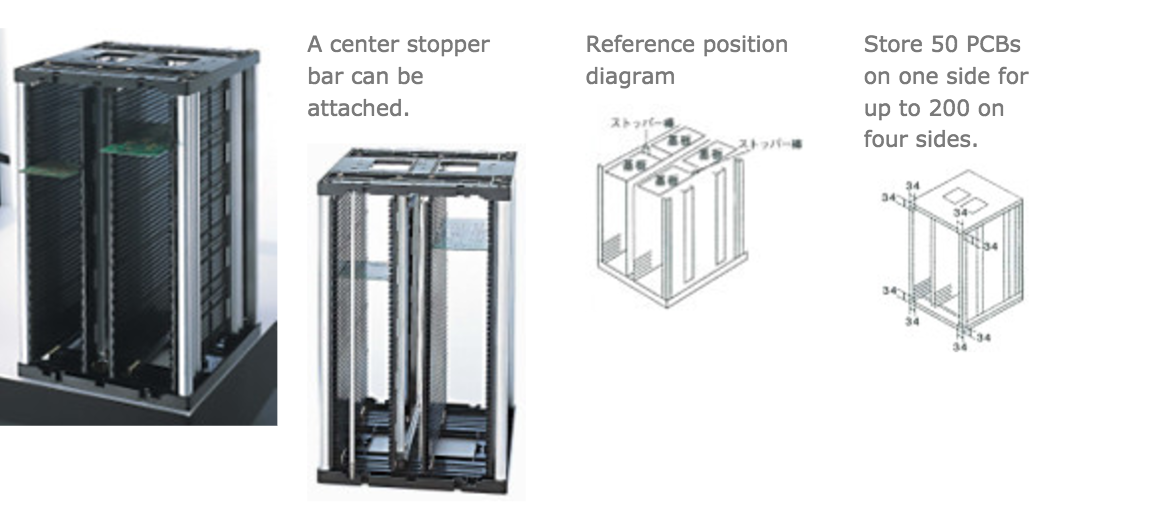 Specifications (mm)
Model No.
Max. Tolerant Temperature for Cardguide
Outer Dimensions
Adjustable Width
Base Material
Ref. Position
Pitch P
PCB Slots
Weight (kg)
Size
L
W
H
A
B
NKAJ-0310N3-WG
60°C
355
320
563
30~100
Plastic
34
34
10
100
6.4
M
NKAJ-0310R3-WG
135°C
355
320
563
30~100
Plastic
34
34
10
100
6.6
NKAJ-0310SR3-WG
165°C
355
320
563
30~100
Plastic
34
34
10
100
6.6
* All standard models are shipped partially assembled. Complete assembly is optional. * All specifications are subject to change without notice.