Printed Circuit Board Cleaner
Power Cyclone PCB Cleaner
Uses a horizontal vibrating-type ESD brush. Its unique design with strong ability to remove dust and particles helps customers achieve contamination free products.
Inline, quickly and efficiently removes dust and particulates from PCB surface before solder application
Reduce defects with Power Cyclone's high removal rate
Cleans using an innovative micro bubble washing system

NIX Solution to Particulates
Power Cyclone 3D helps our customers achieve the high quality they continually pursue.
This PCB cleaner is the answer to your cleaning needs.
Recently, there has been a dramatic increase in the number of customers implementing PCB cleaners before solder application in the mounting process.
Initially, cleaners were only implemented in lines where value-added PCBs and high-quality PCBs were mounted. Recently, however, there is a growing number of manufacturers who are making efforts to set themselves apart from the competition on a global scale and gain constant business from their clients by demanding dust-free PCBs and achieving clean plants and zero defects within the entire company or factory.
The NIX Power Cyclone 3D provides unprecedented dust and particle removal performance to dramatically reduce bleeding, bridges, missing solder, insufficient solder, and other defects caused by particulates.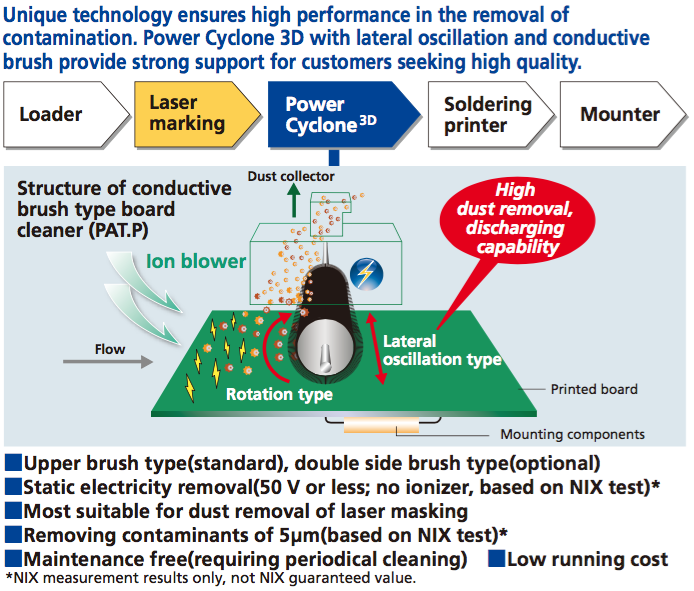 Customer Evaluation Results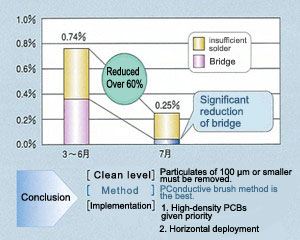 FAQ
What is the lifetime of the brush?
On average, a single brush can last one year. (At 2,000 PCBs a day for a total of 480,000 PCBs a year.)

What happens to the collected dust?
The dust and particles from the board are removed by the horizontal vibrating brush and collected by a dust collector.

What is the material of the brush?
You can find out after signing the non-disclosure agreement.

How does it compare to the cleaning performance of cleaners from other manufacturers?
See the Customer Evaluation Results.

Is a double-sided type available?
Choose from an inline-type top surface cleaner (standard) or an inline-type double-sided cleaner (optional, patent pending).
A unit type for use with an existing conveyor is also available.
Product Information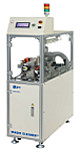 Power Cyclone
Power Cyclone 3D
Easy brush replacement (patent pending)
Top surface brush type (standard) and double-sided brush type (optional)
Static electricity removal (50 V or less: without ionizer, as tested by NIX)
Ideal for removal of soot from laser marking
Removal of 5-µm impurities (as tested by NIX)
Maintenance-free (regular cleaning required)
Low running cost
Easy brush height adjustment (patent pending)
Example: Setting to [0016] for a PCB thickness of 1.6 mm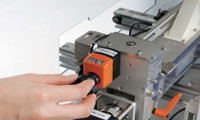 Basic Specifications
| | |
| --- | --- |
| Part Name | Power Cyclone 3D |
| Model | M3DM-IN |
| Cleaning Specifications | PCB top surface cleaning with ESD brush |
| Outer Dimensions | 815 (L) × 350 (W) × 1387 (H) mm (Conveyor length: 370 mm) |
| Weight | Approx. 90 kg |
| Transportation Height | 900±20 mm |
| Mounting Part Height | No parts on top surface of PCB, maximum 25 mm from bottom surface |
| Power Supply | AC 100 V 50 Hz/60 Hz |
| Capacitance | 200 VA |
| Painted Color | NIX standard color: Munsell color 7.2Y 9.4/0.8 (with gloss): White-based cream |
Equipment Specifications
Flow Direction
RightLeft/LeftRight
Reference
Front reference/back reference
PCB Size
M size (50 × 50 – 250 × 330 mm)
Interface
Molex 4-pin connector (1490R/P1)
ESD Brush Height Adjustment
Manual vertical adjustment type
Operation Panel
Power switch
Touch screen
Pressure sensor
Buzzer
Emergency stop
Breaker
Built-in
Options
Double-sided cleaner (patent pending), automatic bridge height adjustment, ionizer, ion blower, dust collector, signal tower, conveyor automatic width adjustment, variable conveyor speed, overseas power supply specifications (when specified other than 100 V), installation and adjustment work
Power Cyclone 3D Unit Type
Basic Specifications
| | |
| --- | --- |
| Part Name | Power Cyclone 3D Unit Type |
| Model | M3DM-UN |
| Cleaning Specifications | PCB top surface cleaning with ESD brush |
| Outer Dimensions | 590 (L) × 75 (W) × 274 (H) mm |
| Power Supply | DC 24 V (for brush rotating motor), Rated output: 30 W |
| Control | Separate control required |
| Dust Collector Aperture | ∅50 mm |
Equipment Specifications
| | |
| --- | --- |
| Flow Direction | RightLeft/LeftRight |
| Reference | Front/back |
| PCB Size | M size (50 to 250 mm) |
| ESD Brush Height Adjustment | Manual vertical adjustment type |
Option
L size (50 to 460 mm)