NK Cert Series: Screw-Bolt Adjustment Type
Lightest in the industry. (NKAJ-0525N3•G weighs only 3.7 kg.)
Cardguide construction that can handle heated PCBs after reflow enables two types of magazine racks (135°C and 165°C types). Note: These withstand temperatures do not apply to the entire magazine rack. Magazines should not be placed in the oven.
Compatible with standard specifications of SMT equipment manufacturers. Note: Be sure to check your specifications upon ordering.
Unparalleled delivery performance with superior accuracy and quality without distortion.
Options
Four guide channels (supports)
Spring-type stopper bars
Numbering labels
4-guide channel specification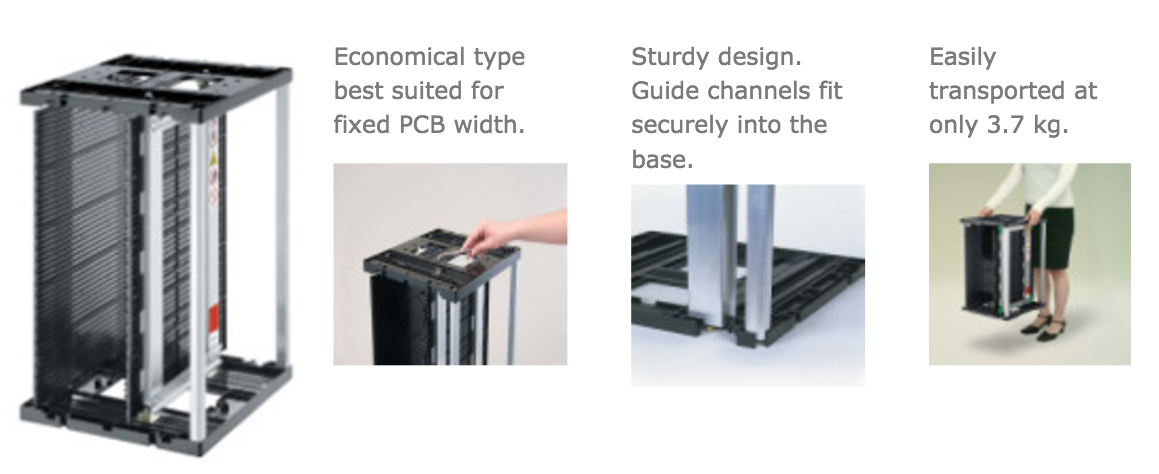 Specifications (mm)
Model No.
Max. Tolerant Temperature for Cardguide
Outer Dimensions
Adjustable Width
Base Material
Ref. Position
Pitch P
PCB Slots
Weight (kg)
Size
L
W
H
A
B
NKAJ-0525N3-G
60°C
355
320
563
50~255
Plastic
34
34
10
50
3.7
M
NKAJ-0525R3-G
135°C
355
320
563
50~255
Plastic
34
34
10
50
3.8
NKAJ-0525SR3-G
165°C
355
320
563
50~255
Plastic
34
34
10
50
3.8
* All standard models are shipped partially assembled. Complete assembly is optional. * All specifications are subject to change without notice.